Transient Rates
*Subject to change at anytime
Winter Season (October 15-April 14)- $1.45 ft/night
Summer (April 15-October 14)- $2.20 ft/night
Holiday Weekends – *Min 2 night stay*
Long Term Rates – Currently Waitlisted*
Per Foot Monthly on an Annual Term  $16.00
Six month Per Foot $18.50 per month
Under Six Months $22.00 per month
Charges For Power/Hydro
15 or 30 AMP – $10 per night
50 AMP – $15.00 per night 
15 or 30 AMP – $50.00 per month summer
50 AMP – $100.00 per month summer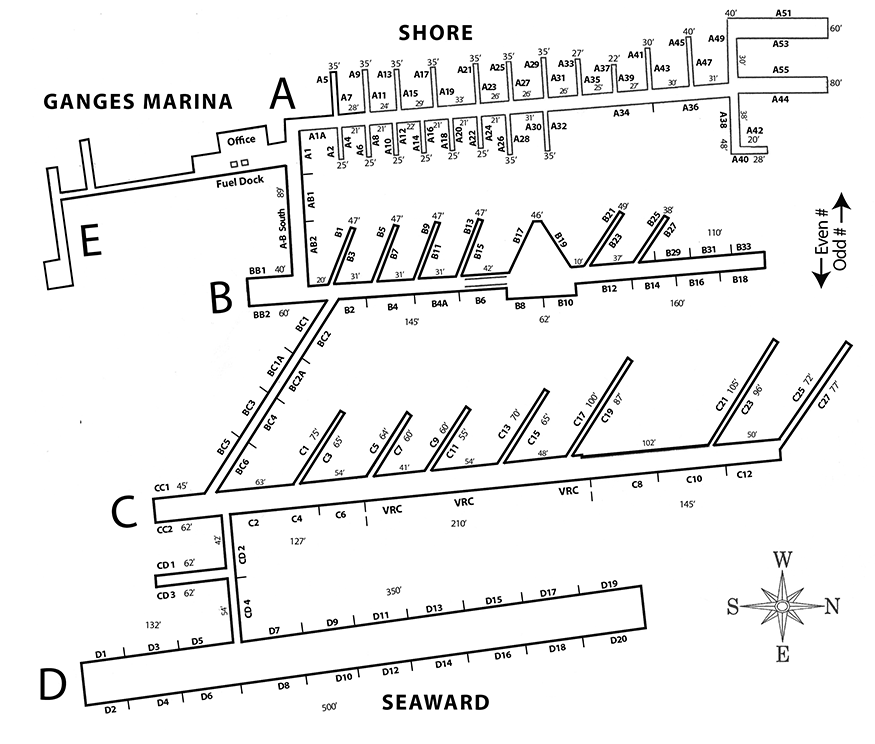 REQUEST FOR RESERVATION (for TRANSIENT moorage only)
You can make a reservation by calling our office during office hours at 250-537-5242
If you are requesting moorage within the next 48 hours, please contact us by phone.  Otherwise, please complete our online reservation form.  After you submit your form, please allow us 24 hours processing time, before calling us with  your credit card number to confirm your reservation.
Please note: we cannot guarantee your reservation until we receive your credit card number. ALL VESSELS MUST HAVE LIABILITY INSURANCE TO BERTH AT GANGES MARINA.   
****WATER**** As of May 1 2023 the island is already on a level 2 water restriction **Please arrive with full tanks as water is not guaranteed during your stay** 
Conditions
We have a 48 hour cancellation policy – please let us know by closing two days before your scheduled arrival if you wish to cancel.
Otherwise, you will be charged for your reservation.
All rates are subject to change at any time without notice.
Port of Entry (Canada Customs) nearest Ganges is at Bedwell Harbour between May and September. Van Isle Marina is also available in Sidney year round.
For all customs questions, call 1-800-461-9999 within Canada or 1-204-983-3500 outside of Canada.