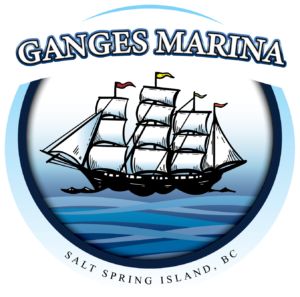 WELCOME TO GANGES MARINA AND FUEL DOCK
Salt Spring Island, BC, Canada 48 51.5242N 123 29.998W
REQUEST YOUR MOORAGE
YOU MUST MAKE A RESERVATION BEFORE ARRIVAL. THE GATE IS LOCKED 24/7
Long Term Moorage is now sold out for 2023.
Our fuel dock is open 10am-4pm 7 days/week.  Fuel is NOT available outside these hours.
Due to water restrictions, water is not available on the docks May-September.
Proof of insurance must be shown at check-in (min $1 million) 
We are located in the heart of Ganges town on Salt Spring Island in the beautiful Gulf Islands Area of British Columbia Canada. Our marina is at the center of all the action and amenities Ganges has to offer!
On site our fuel dock offers both diesel and premium-grade gasoline. Large quantities up to 20000 litres can be arranged.
We offer free Wifi throughout our gated and secured marina.
We have shower and laundry facilities available to guests.
Our friendly staff will be happy to help with all your needs!
You can walk 2 minutes to shop in the village of Ganges or use the Country Grocery Free Shuttle to/from the Upper Ganges Village to get all your needs!
                                     Current Hours for Fuel/Office are:
Thursday, Friday, Saturday and Sunday : 10 am to 4 pm
We are closed Monday, Tuesday and Wednesday -please arrange in advance for moorage on these days
*Please note that ALL VESSELS MUST have liability insurance to berth at Ganges Marina*
Covid 19 –
To help minimize the spread of Covid and protect the health of our employees and clients at this time Fuel Only customers are NOT allowed to leave the fuel dock area or use the facilities. Only overnight registered guests may use the facilities and have in/out privileges. We are NOT allowing daytime stops to non-registered guests for any reason including for groceries, lunch or passenger drop off. 
We thank you for your understanding and wish all good health. 
TEL: (250) 537-5242 | FAX: (250) 538-1719 | EMAIL: gangesmarina@gmail.com
161 Lower Ganges Road, Saltspring Island, BC  V8K 2T2
Copyright Ganges Marina 2020